16.04.2011
Le podcast nouveau est arrivé ! Memory9 nous offre cette semaine, pendant les parties 1 et 2, un joli mix entre abstract hip hop, dubstep pas trop relou et jungle (For Whom The Bell Tolls, de Metallica & DJ Spooky, de la BO de Spawn The Movie). En partie 3, Daedelus nous propose un mix de ces compos suivi d'une interview. Joie, donc. On ne pourra que regretter l'habituelle absence de tags ID3 dans le mp3.
En cadeau, un mix de 1996 diffusé à l'époque sur Kiss FM : c'est "Solid Sloath", de PC et Strictly Kev, aka DJ Food sur ce coup-là.
Surtout, inscrivez-vous à la newsletter pour obtenir le lien de DL de ce dernier mix, il y est exclusif et temporaire.
> Solid Steel homepage
> Soundcloud

"We also have regularly download links in the mail out for Solid Steel shows from the archive . We often get asked for old shows and podcasts, and you can add your request on the Solid Steel facebook page here http://www.facebook.com/topic.php?uid=175027509192663&topic=302

This week's show from the archive is a mix from PC and Strictly Kev from DJ Food. It is titled Solid Sloath and was broadcast on 23/6/1996 on Kiss FM. We don't have a tracklist, but you can hear the guys backtracking. There is a limited download available here http://wtrns.fr/8PiJ0J8BaO43-_

PLAYLIST — 15/4/2011
PART 1 — Memory9
ARTIST TITLE LABEL
Eskamon Fine Objects Ancestor
Bassnectar Wildstyle Method Amorphous
Memory9 Mission (king Cannibal Remix) Skanky Panky
Modeselektor The Dark Side Of The Sun (memory9 Monome Refix) Bpitch Control
Edit Battling Go-go Yubari In Downtown L.a. Alpha Pup
Ill.gates Irma Vep Muti Music
The Electric Beautiful Memory9 Remix Organically Grown Sounds
Mr. Oizo Monday Massacre F Comm
Flying Lotus Spicy Sammich Warp
Two Fingers Fools Rhythm Ninja Tune
Eprom Ghost Hunter Unknown
Eskmo Become Matter Soon For You Ninja Tune
PART 2 — Memory9
ARTIST TITLE LABEL
Lazer Sword Owl Tats Innovative Leisure
Dj Soul Slinger Jungle Liquid Sky Jungle Sky
Memory9 Mission (memory9 1997 Glow Stick Monome Refix) Skanky Panky
Rock Stone Foundation Dis Soun?-187 Jungle Dub Jungle Sky
Drop The Lime Gal Yu Nuh Beg (push Push Mix) Shockout
Photek Ni Ten Ichi Ryu Science
Dj Spooky & Metallica Spawn Theme Immortal Records
Clifford Gilberto Earth Vs. Me Ninja Tune
Squarepusher Beep Street Warp
Jogger Just Briefly (remix) Magical Properties
Gold Panda I Hate This Song Magical
Brian Eno Passing Over Hannibal
PART 3 — Daedelus
ARTIST TITLE LABEL
James Pants Seven Seals Theme Stones Throw
Siouxsie & The Banshees Spellbound Polydor
Machinedrum Nastyfuckk Unknown
Toro Y Moi You Hid Carpark Records
Robot Koch Threats Project Mooncircle
Ad Bourke One For Me Citinite
Stagga Timewarp Robox Neotech
Teebs Anchor Steam All City
Dj Rashad Who Da Coldest Planet Mu
Rudi Zygadio Filthy Logic Planet Mu
Jon Wayne Tears Pt. 2 Unknown
Mustard Pimp Pigeon Flu Unknown
Stagga Genik Ridim Robox Neotech
Daedelus Fair Weather Friends Ninja Tune
Animal Collective Loch Raven Fat Cat
Trolley Snatcha Circle K Dub Police
Bjork Joga (strings& Vocal Mix) Unknown
Drake Fancy Unknown
Ac Slater Calm Down Trouble & Bass
The Beatles Strawberry Fields Forever Capitol
Ldfd Outta Control Unknown
Lorn Army Of Fear Brainfeeder
Untold I Can?t Stop This Feeling Hemlock
Nastynasty The Reef Frite Nite
Captain Hands Spell On U Unknown
PART 4 — DK - Daedelus interview
ARTIST TITLE LABEL
Daedelus Penny Loafers (feat. Inara George) Ninja Tune
Daedelus "sew, Darn, Mend" Ninja Tune
Daedelus Slowercase Ninja Tune
Daedelus Suit Yourself Ninja Tune
Daedelus Tailor-made (feat. Milosh) Ninja Tune
Daedelus Overwhelmed (feat. Bilal) Ninja Tune
Daedelus What Can You Do? (feat. Busdriver) Ninja Tune
Daedelus In Tatters (feat. Kelela Mizanekristos) Ninja Tune
Daedelus French Cuffs (feat. Baths) Ninja Tune"
..daedelus - solid steel podcast 15 Apr 2011 part 3 + daedelus interview
11:04 Publié dans Betweenears, Bondage | Lien permanent | Commentaires (0) | Tags : solid steel, ninja tune, podcast, daedelus, memory9, dubtep, mix, téléchargement, electronica, musique, mp3
02.12.2009
- en avant la zizique -
Voici le cinquième numéro de la si bouleversifiante (ou pas) série de compilation RadiOlendelL ! Une sélection de 18 titres évoquant l'électronique perchée et ludique (O.Lamm, Bruce Haack), retombant bien vite dans l'introspection (Siktransit, Burial) pour se réveiller (DJ Baku, Hypo & EDH) exploser de rage (Robert Le Magnifique, Nine Inch Nails), et disparaître, effondrée, sourde et étourdie, sur elle-même (Fuck Buttons, Portishead, Radiohead).
Playlist :
01. O.Lamm - La Chasse Aux Oiseaux (with Yoshimi Tomida) - 2006
02. Bruce Haack - Electric To Me Turn - 1970
03. Siktransit - Touchy - 2003
04. Fever Ray - If I Had A Heart - 2009
05. Portishead - Key Bored 299 03 - 2006
06. Burial - Fostercare - 2009
07. The XX - Intro - 2009
08. Robert Le Magnifique, Tepr, My Dog Is Gay - Le Spectre - 2004
09. DJ Baku - Element For Perfect - 2008
10. Hypo & EDH - Naughty Place - 2006
11. Antipop Consortium - Ghostlawns - 2002
12. Robert Le Magnifique, Tepr, My Dog Is Gay - Ophélie #2 - La Folie - 2004
13. Nine Inch Nails - Self Destruction, Final - 1995
14. Pivot - O Soundtrack My Heart - 2008
15. Fuck Buttons - Sweet Love For Planet Earth - 2008
16. Portishead - Greek Jam - 2006
17. Radiohead - Nude (String FX Etc. Stem) - 2008
18. Radiohead - Reckoner (Guitars Stem) - 2008
28.04.2007
- Prodigy - Always Outnumbered Never Outgunned -

Des années d'attente, des espoirs vite cristalisés en pseudo-bible dancefloor.. On a bien fait mariner, on s'est bien imprégné, donc ça devrit être bon, maintenant ? On attend toujours trop des accoucheurs de merveilles. Cf. Music For The Jilted Generation ou l'album éponyme The Prodigy. On a trop vite craché sur Always Outnumbered.., mais la vague Big Beat s'est finalement vite envolée après le passage des frères chimiques et de Fatboy vers des contrées ouvertement dancefloor (fear les maxis hors de prix dudit Fatboy, par ex.) en comparaison à leur prédéceur respectif. Et si, après la déception et la baisse de la sensation de manque, on se focalisait sur la puissance du tout dernier (The) Prodigy, hein ? Ouaiiis, OK, le Fat Of The Land est toujours ultime, mais il a *un peu* dix ans. Alors accepter l'évolution d'un artiste vers d'autres terres que celles sur lesquelles on l'avait - trop rapidement - scéllé relève du Mea Culpa.
Mea Culpa jouissif, car cet album fait particulièrement plaisir alors qu'on pensait le Big Beat déjà bien muté, voire enterré.
Un seul mot : enjoy.
.. prodigy - hotride

27.04.2007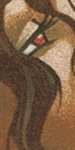 - back in black ! enfin ouai, mais nan -
Mirlitons et tambourins, clochettes et chou bagnd ! Après au moins 46.2 mois d'absence, je raise from the dead mes sensations cérébrales de tous horizons ; ainsi vous trouverez ici mes trips musicaux du moment, les films & aniimes dévorés ou simplement croisés du regard, les bouquins (mais quel est ce mot ?) lus (tout arrive) tellement vite qu'ils s'en sont autodafés..
Bref, que du quifsarasse pour toi, lacteuse, pour toi, Lecter, qui aimez vous sentir vrombüler sous d'inattendues visitations du Sans-Esprit particulièrement jouissives (ou pas, certes).
See y'around, dudes & babes.

..justice - waters of nazareth (erol alkan's durrr durrr durrrrrr re-edit